Most Viewed Games on Twitch in 2021
Twitch is a leading live streaming platform. It receives on average 30 million daily visitors, who spend time viewing more than 7 million streams. Twitch live streaming has entirely altered the way we use video games for entertainment. Now many people get enjoyment from watching others play games rather than participating in the action themselves. While Twitch theoretically caters to most types of streaming, it's no secret that game streaming is its lifeblood. Traditionally, most people have gone to Twitch to watch people play games and to listen to them commentate as they play. But what games do they watch most often? Are popular Twitch games the same as the top-sellers you can buy in a gaming store, or more likely online through Steam, EA, or another gaming company nowadays?
If you look at the following list, you will notice a surprising variety in the types of games played. Indeed a few of the top categories on Twitch aren't gaming-related at all. You will see fighting games, sports games, battle royales, MMORPGs, and even gambling games.
Obviously, the popular games that streamers play on Twitch change over time, sometimes from day to day. Therefore, we have used Twitch Stats data to select the most popular games on Twitch during the current year, with data up to mid-July 2021. These represent the average viewers of a Twitch game. We also show overall rankings for those games that rank in Twitch's All-time Top 50.
---
Most Viewed Games on Twitch in 2021:
---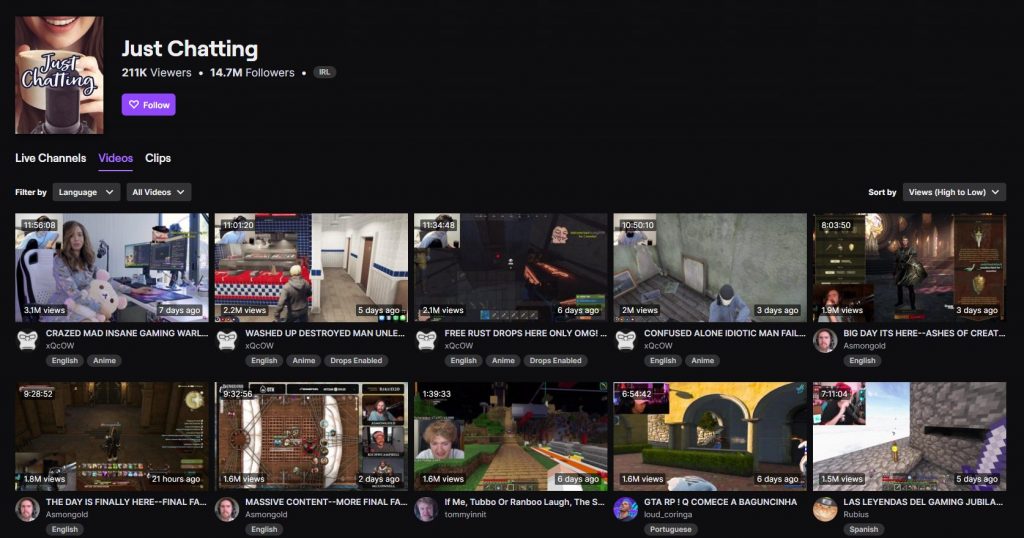 Source: twitch.tv
Average Viewers: 262,333
Average Channels: 4,670
Total Streamers: 149,557
Highest Viewers: 2,783,654
Most Channels: 13,282
Most Popular Streamers: ADINROSS / IBAI / TRYMACS / LUDWIG / HASANABI
Somewhat surprisingly, we have started this list of most viewed games on Twitch with something that isn't a game at all. But the fact that "Just Chatting" is now the most popular channel on Twitch is too important to ignore. As its name clearly states, Just Chatting is about streamers chatting with their viewers rather than playing games.
This proves that Twitch isn't just for gaming. Interestingly, it also emphasizes that Twitch is not just used by Western-centric teenagers. The top broadcast language in the Just Chatting channel is Spanish, followed by English, Korean, Portuguese, and Russian.
---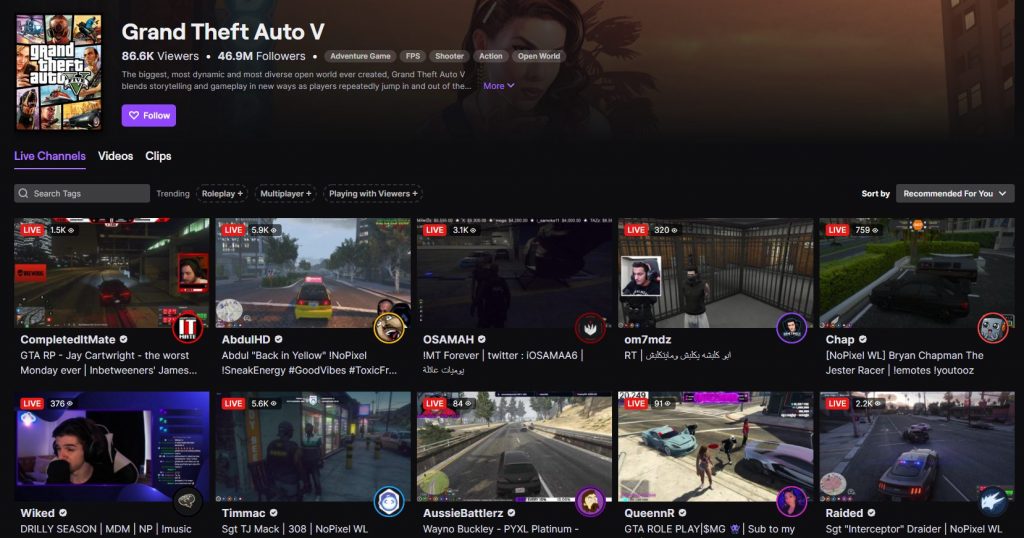 Source: twitch.tv
Average Viewers: 240,544
Average Channels: 3,084
Total Streamers: 37,647
Highest Viewers: 1,158,046
Most Channels: 7,056
Most Popular Streamers: XQCOW / LOUD_CORINGA / SYKKUNO / SUMMIT1G / JUANSGUARANIZO
Grand Theft Auto V is a 2013 action-adventure game developed by Rockstar North and published by Rockstar Games. Set within the fictional state of San Andreas (based on Southern California), Grand Theft Auto Online allows you to explore its open-world environment and engage in cooperative or competitive game matches.
---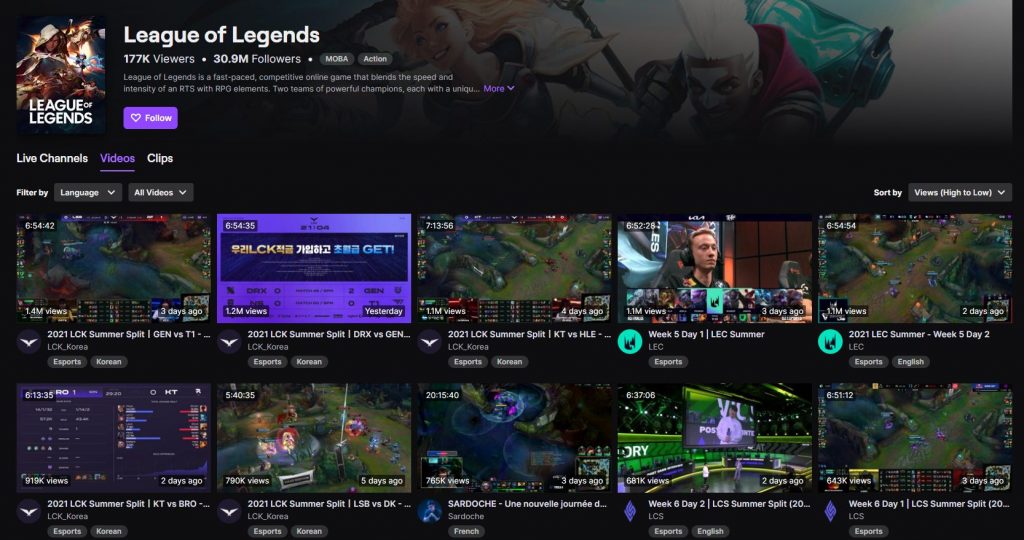 Source: twitch.tv
Average Viewers: 216,515
Average Channels: 4,996
Total Streamers: 39,576
Highest Viewers: 1,222,719
Most Channels: 11,635
Most Popular Streamers: LEC / CBLOL / LCK / LCS / LOLTYLER1
League of Legends (LoL), commonly referred to as League, is a 2009 multiplayer online battle arena video game developed and published by Riot Games. Two teams of five players battle in player versus player combat, each team occupying and defending their half of the map.
---
4. Fortnite (All-time #2)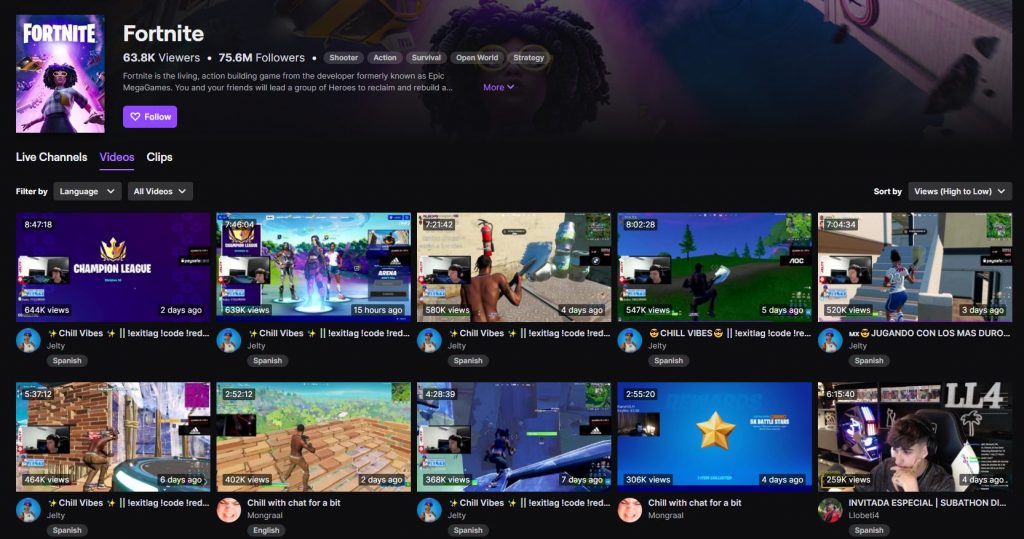 Source: twitch.tv
Average Viewers: 131,215
Average Channels: 8,415
Total Streamers: 52,445
Highest Viewers: 997,814
Most Channels: 20,255
Most Popular Streamers: THEGREFG / CLIX / AMAR / JELTY / STABLERONALDO_
Fortnite is an online video game developed by Epic Games and released in 2017. Fortnite Battle Royale is a free-to-play battle royale game in which up to 100 players fight to be the last person standing.
---
5. Call of Duty: Warzone (All-time #NA, but Call of Duty: Black Ops III #17)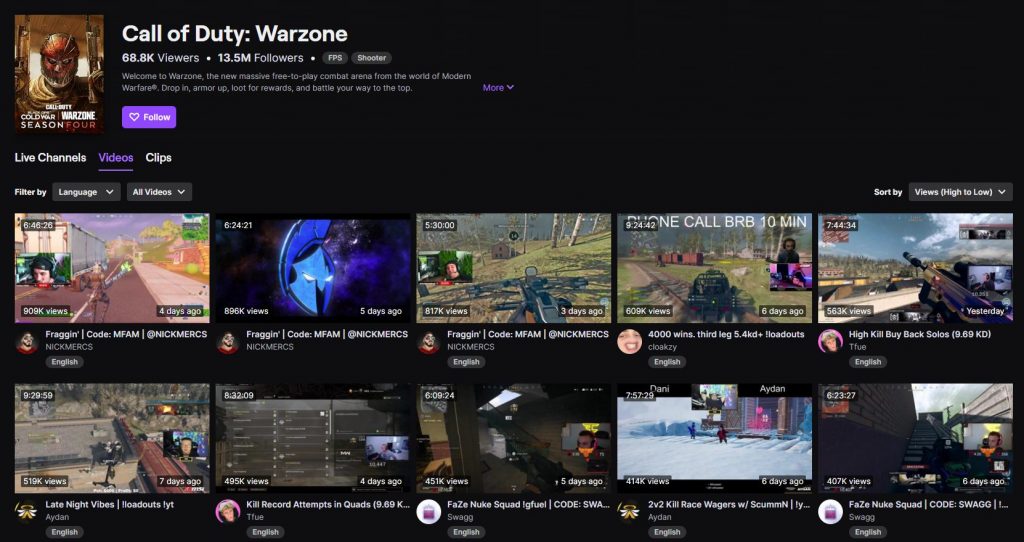 Source: twitch.tv
Average Viewers: 119,123
Average Channels: 4,645
Total Streamers: 35,243
Highest Viewers: 1,623,129
Most Channels: 22,619
Most Popular Streamers: NICKMERCS / TIMTHETATMAN / SWAGG / TFUE / SYMFUHNY
Call of Duty: Warzone is a free-to-play battle royale video game released in 2020 for PlayStation 4, Xbox One, and Microsoft Windows. The game is a part of 2019's Call of Duty: Modern Warfare and is connected to 2020's Call of Duty: Black Ops: Cold War. Warzone allows online multiplayer combat among 150 players, although some limited-time game modes support 200 players.
---
6. VALORANT (All-time #NA)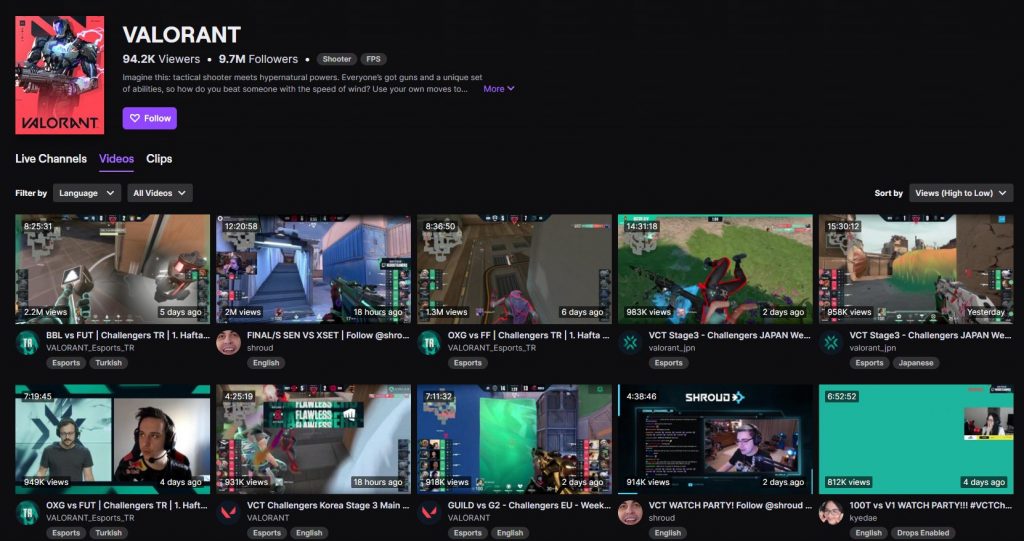 Source: twitch.tv
Average Viewers: 111,028
Average Channels: 4,475
Total Streamers: 45,205
Highest Viewers: 1,001,644
Most Channels: 8,570
Most Popular Streamers: SHROUD / STYLISHNOOB4 / HIKO / TENZ / WTCN
VALORANT is a free-to-play first-person hero shooter developed and published by Riot Games for Microsoft Windows. Players play as one of a set of agents, characters designed based on several countries and cultures worldwide. Players are assigned to either the attacking or defending team, with each team having five players on it.
---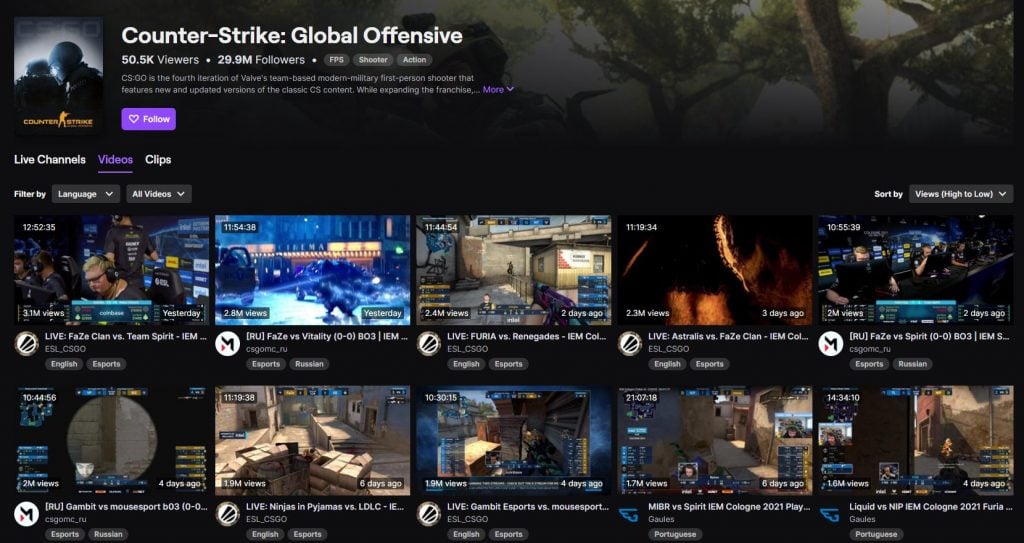 Source: twitch.tv
Average Viewers: 93,523
Average Channels: 1,996
Total Streamers: 28,133
Highest Viewers: 619,160
Most Channels: 4,591
Most Popular Streamers: BLASTPREMIER / GAULES / CSGOMC_RU / ESL_CSGOB / PAGO3
Counter-Strike: Global Offensive (CS:GO) is a multiplayer first-person shooter developed by Valve and Hidden Path Entertainment. It is the fourth game in the Counter-Strike series. Although it was first released in 2012, Valve still regularly updates the game, both with smaller balancing patches and larger content additions.
---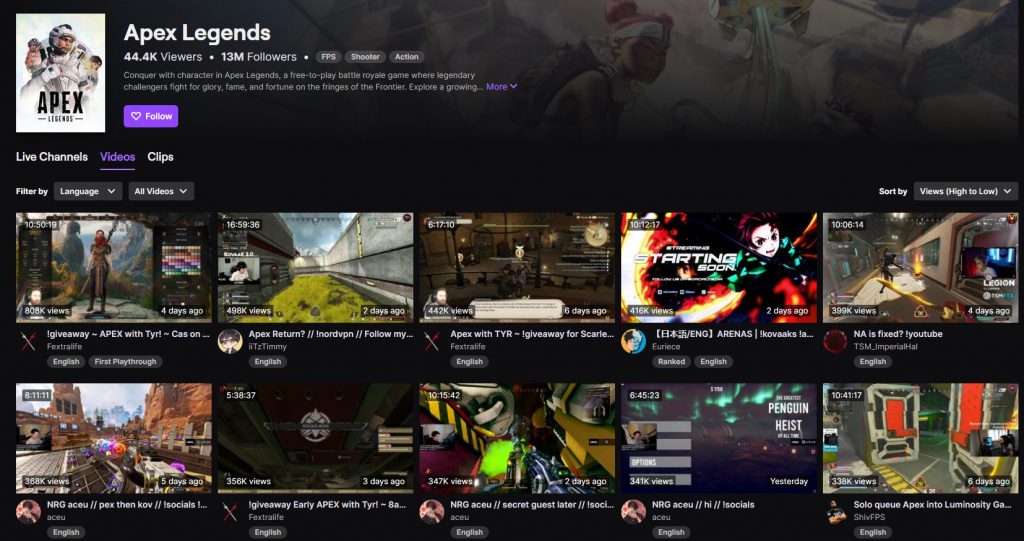 Source: twitch.tv
Average Viewers: 71,897
Average Channels: 5,186
Total Streamers: 31,327
Highest Viewers: 365,946
Most Channels: 15,594
Most Popular Streamers: STYLISHNOOB4 / KATO_JUNICHIO817 / TSM_IMPERIALHAL / SPYGEA / IITZTIMMY
Apex Legends is a free-to-play hero battle royale game developed by Respawn Entertainment and published by Electronic Arts. It was released in 2019. The game is set in the same science fiction universe as Respawn Entertainment's Titanfall series. Apex Legends features two gameplay modes: Battle Royale and Arenas.
---
9. Rust (All-time #11)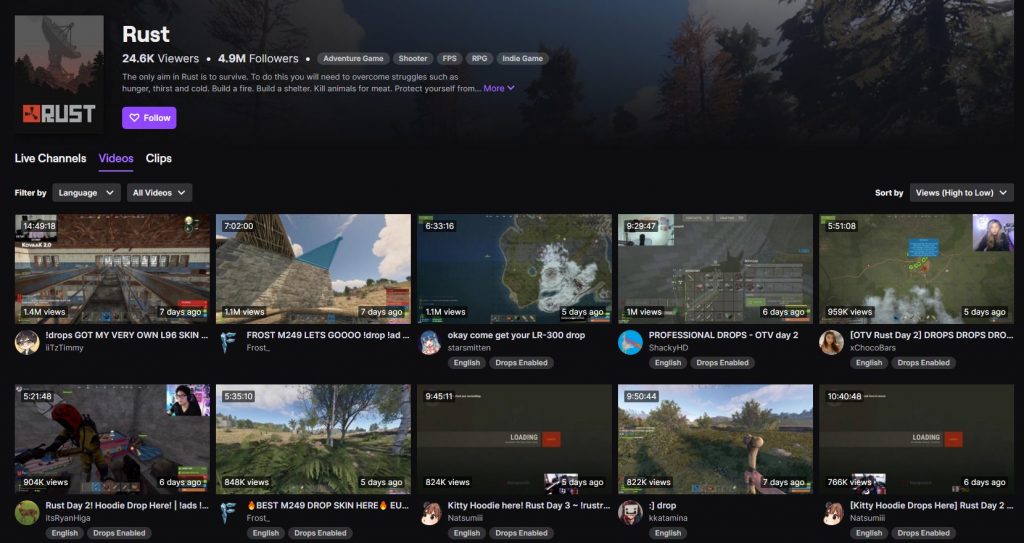 Source: twitch.tv
Average Viewers: 66,635
Average Channels: 704
Total Streamers: 11,712
Highest Viewers: 1,370,869
Most Channels: 3,244
Most Popular Streamers: HJUNE / ELXOKAS / RAY_C / RICOY23 / SEQIOSHA
Rust is a multiplayer-only survival video game developed by Facepunch Studios. The objective of Rust is to survive in the wilderness using gathered or stolen materials. Players must successfully manage their hunger, thirst, and health or risk dying.
---
10. Dota 2 (All-time #5)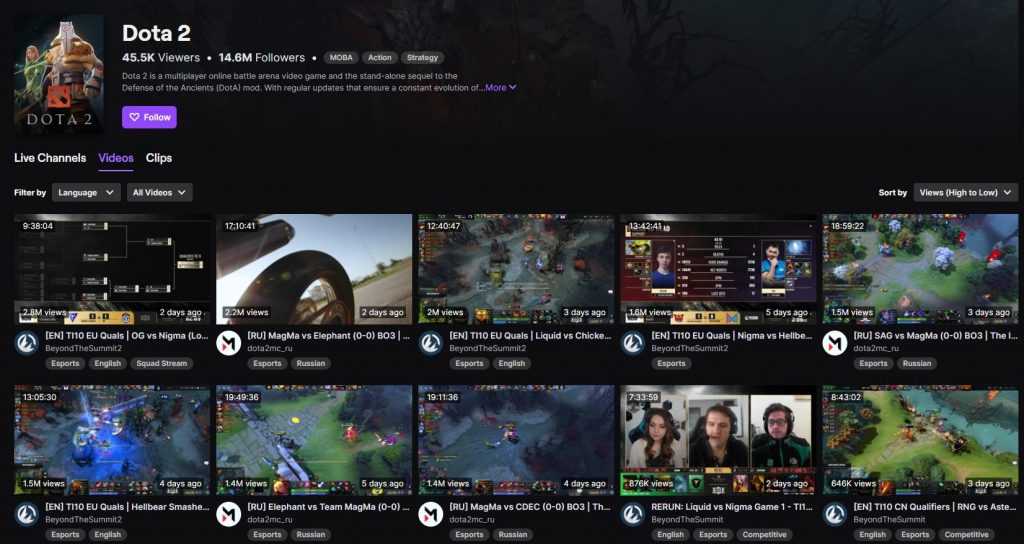 Source: twitch.tv
Average Viewers: 65,532
Average Channels: 922
Total Streamers: 8,487
Highest Viewers: 399,679
Most Channels: 1,813
Most Popular Streamers: DOTA2MC_RU / GORGC / STRAY228 / ESL_DOTA2 / NIX
Dota 2 is a multiplayer online battle arena (MOBA) video game developed and published by Valve. The game is a sequel to Defense of the Ancients (DotA). Dota 2 is played in matches between two teams of five players, with each team occupying and defending their own separate base on the map. Each of the ten players independently controls a powerful character, known as a "hero," all of whom have unique abilities and differing play styles.
---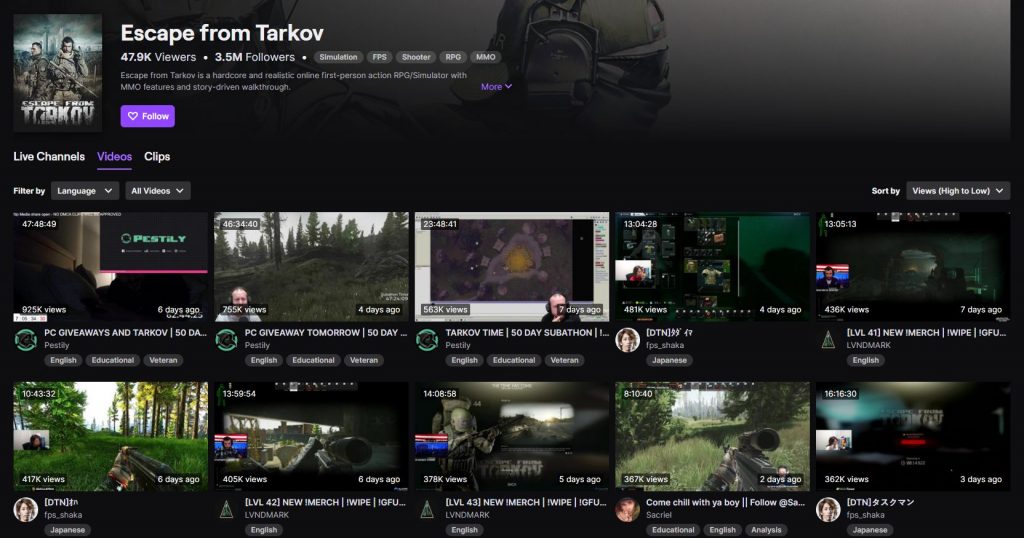 Source: twitch.tv
Average Viewers: 54,144
Average Channels: 1,403
Total Streamers: 10,165
Highest Viewers: 442,048
Most Channels: 6,138
Most Popular Streamers: SUMMITG1 / HANRYANG1125 / LVNDMARK / FPS_SHAKA / ANTON
Escape from Tarkov is a multiplayer first-person shooter video game in development by Battlestate Games for Windows. The game is set in the fictional Norvinsk region, where a war is taking place between two private military companies (United Security "USEC" and the Battle Encounter Assault Regiment "BEAR"). Players join matches called "raids" to fight other players for loot and aim to survive and escape; dying results in losing all items the player used and found during that raid with only a few exceptions.
---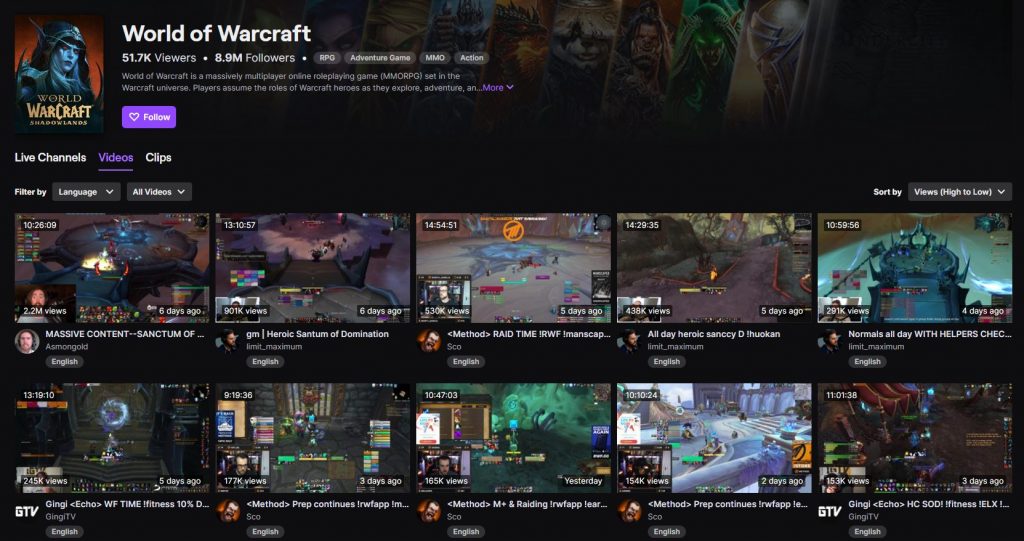 Source: twitch.tv
Average Viewers: 51,476
Average Channels: 1,908
Total Streamers: 13,855
Highest Viewers: 429,631
Most Channels: 8,414
Most Popular Streamers: ASMONGOLD / SODAPOPPIN / ESFANDTV / LIMIT_MAXIMUM / GINGITV
World of Warcraft (WoW) is a massively multiplayer online role-playing game (MMORPG) released in 2004 by Blizzard Entertainment. Set in the Warcraft fantasy universe, World of Warcraft takes place within the world of Azeroth, approximately four years after the events of the previous game in the series, Warcraft III: The Frozen Throne. World of Warcraft has had eight major expansion packs.
---
13. FIFA 21 (All-time #NA, but FIFA 16 #49)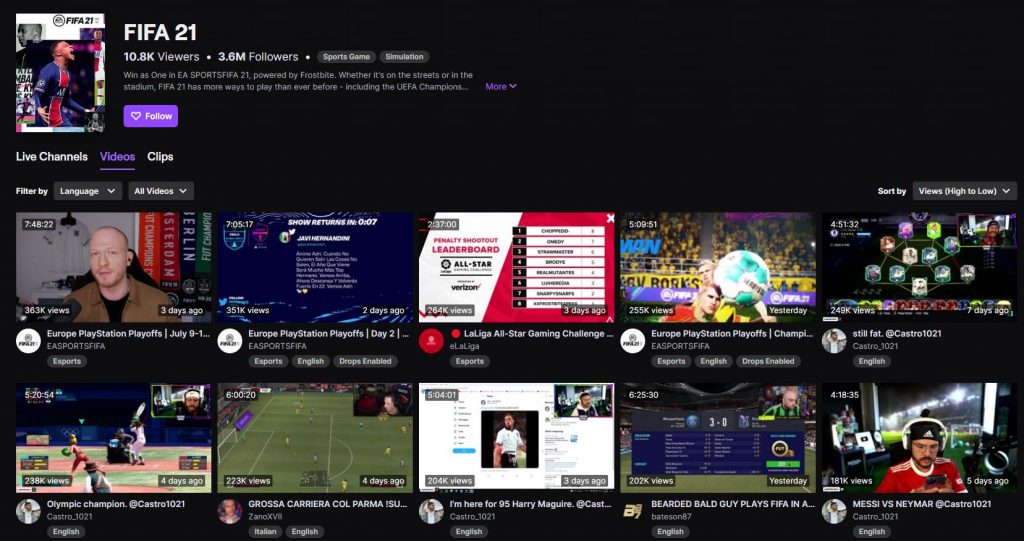 Source: twitch.tv
Average Viewers: 48,422
Average Channels: 1,202
Total Streamers: 15,342
Highest Viewers: 889,609
Most Channels: 7,720
Most Popular Streamers: CASTRO_1021 / ZANOXVII / PIEFACE23 / ADOLFZ / RUNTHEFUTMARKET
FIFA 21 is the 28th installment in the FIFA series, released on 9 October 2020. The game features more than 30 official leagues, over 700 clubs, and over 17,000 players. FIFA is a series of association football video games developed and released annually by Electronic Arts under the EA Sports label.
---
14. Music (All-time #15)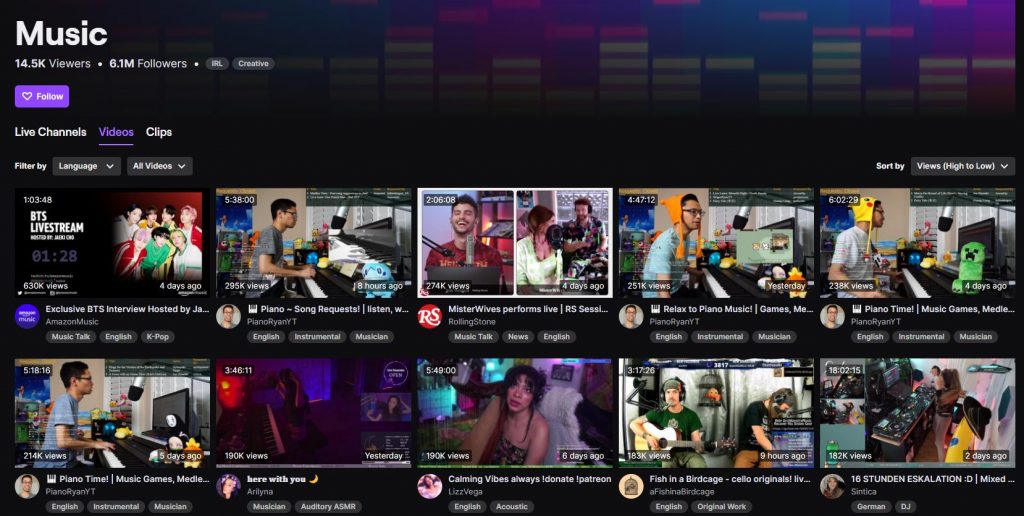 Source: twitch.tv
Average Viewers: 33,535
Average Channels: 1,308
Total Streamers: 24,586
Highest Viewers: 192,935
Most Channels: 2,891
Most Popular Streamers: SINTICA / JESSUTV / MATTHEWKHEAFY / ANASTASIA_ROSE_OFFICIAL / ABRACADABRA
Twitch music channels are another non-gaming category. Twitch describes Twitch Music as being a place where music creators can share their art with a community of millions and build a place to connect with their most passionate fans. With Twitch, anyone can broadcast themselves live over the internet to millions of viewers. It has an amazing community of musicians – instrumentalists, DJs, rappers, singers, and music producers. Viewers can request songs, ask questions, and exchange ideas.
---
15. Slots (All-time #NA)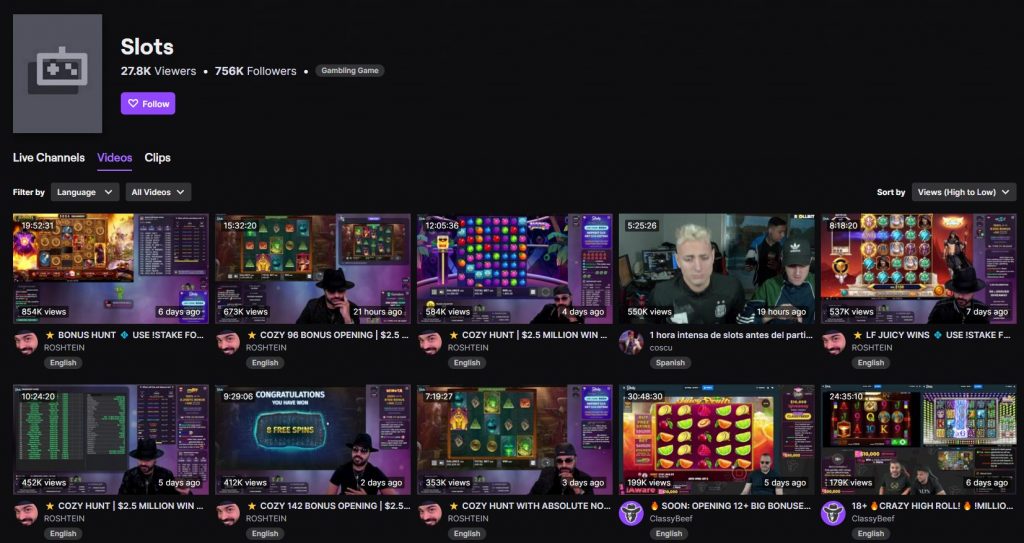 Source: twitch.tv
Average Viewers: 32,009
Average Channels: 161
Total Streamers: 4,482
Highest Viewers: 224,521
Most Channels: 284
Most Popular Streamers: TRAINWRECKSTV / ROSHTEIN / DEUCEACE / XPOSED / BIDULE
Slots is a section of Twitch devoted to gambling. In this section, streamers play a variety of online gambling games. Some of the streams are merely spinning slots with no voice commentary. One of the reasons for the popularity of this category is that it allows people to see how a game operates before they lose real money through not understanding game mechanics.
---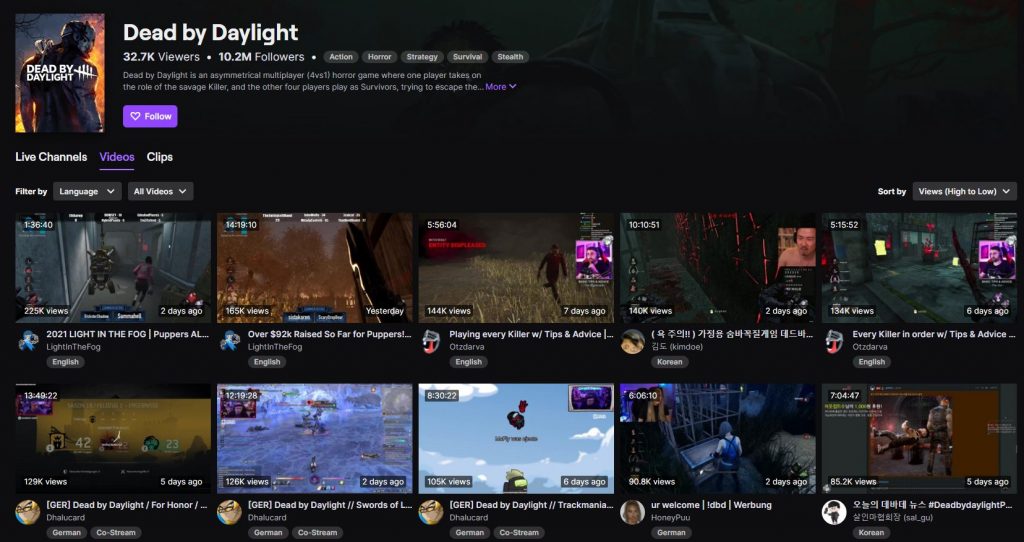 Source: twitch.tv
Average Viewers: 31,612
Average Channels: 1,764
Total Streamers: 21,916
Highest Viewers: 255,399
Most Channels: 5,158
Most Popular Streamers: OTZDARVA / SAL_GU / TAKESIPON / ANGRYPUG / ZUBATLEL
Dead by Daylight is an asymmetric survival horror video game developed by Behaviour Interactive. It was first released in 2016. The game is played as a one-versus-four online multiplayer where one player takes on the role of a savage killer and the other four play as survivors trying to escape the killer and avoid being caught and sacrificed to a malevolent force known as the Entity.
---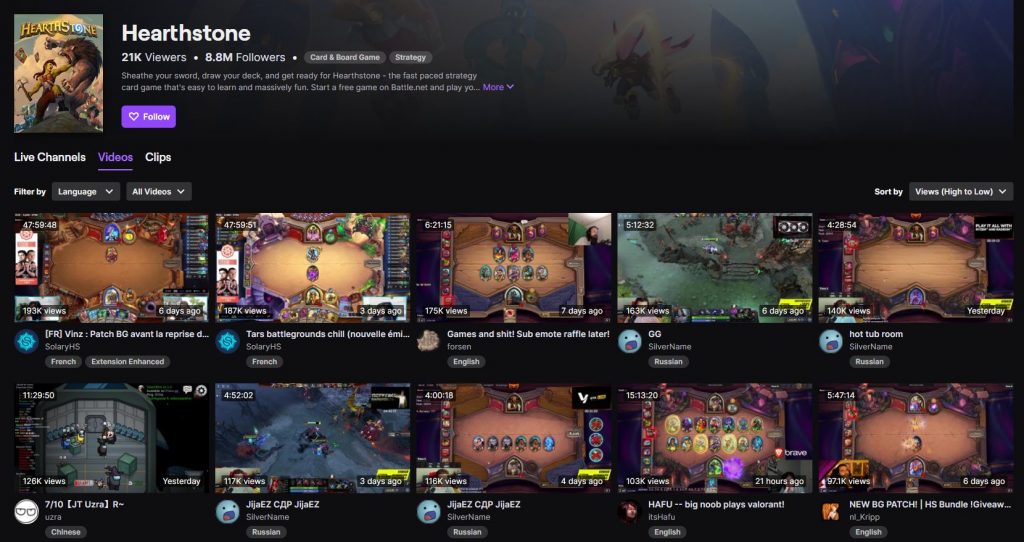 Source: twitch.tv
Average Viewers: 29,008
Average Channels: 251
Total Streamers: 4,097
Highest Viewers: 99,962
Most Channels: 1,009
Most Popular Streamers: SILVERNAME / NL_KRIPP / DOGDOG / THIJS / RDULIVE
Hearthstone is a free-to-play online digital collectible card game developed and published by Blizzard Entertainment. It builds upon the existing lore of the Warcraft series by using the same elements, characters, and relics. The game is played as an eSport, with high-level tournaments such as Blizzard's official World Championship featuring a prize pool of up to $1 million.
---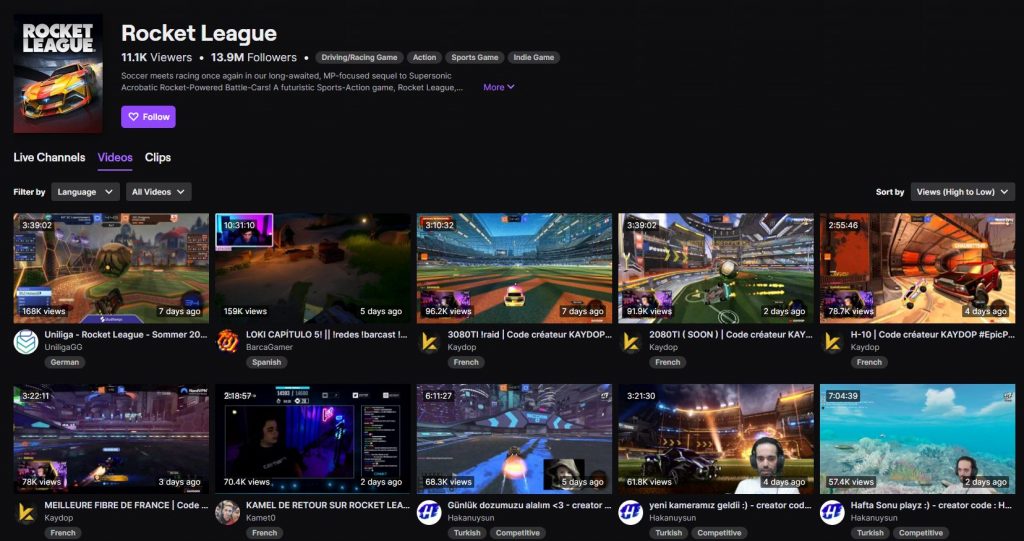 Source: twitch.tv
Average Viewers: 28,953
Average Channels: 1,649
Total Streamers: 19,226
Highest Viewers: 228,024
Most Channels: 3,977
Most Popular Streamers: KAYDOP / ROCKETBAGUETTE / SMUSTYCOW / RIZZO / FORKY
Rocket League is a vehicular soccer video game developed and published by Psyonix, first released in 2015. It has been described as "soccer, but with rocket-powered cars." It has up to eight players assigned to each of the two teams, using rocket-powered vehicles to hit a ball into their opponent's goal and score points over the course of a match.
---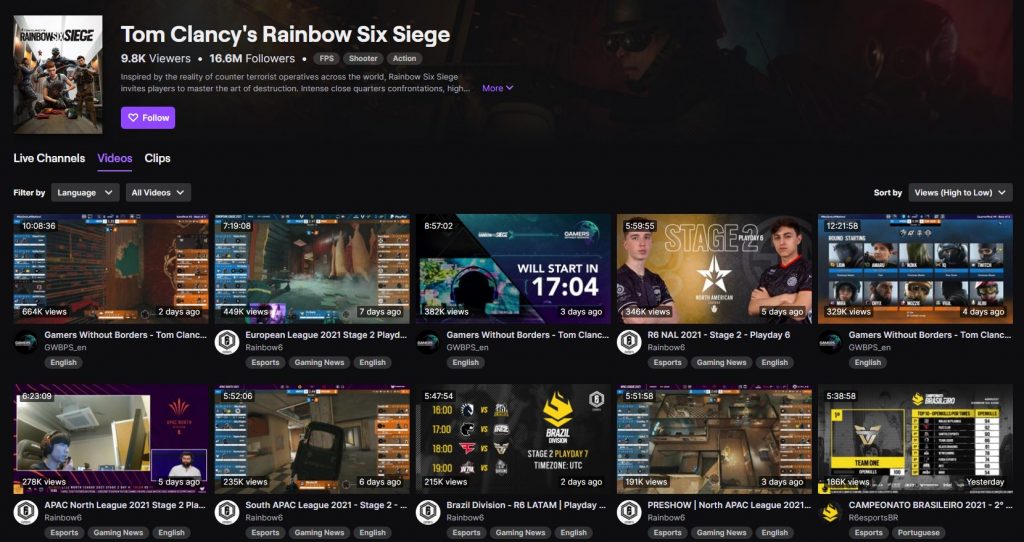 Source: twitch.tv
Average Viewers: 28,778
Average Channels: 1,441
Total Streamers: 10,698
Highest Viewers: 274,608
Most Channels: 3,637
Most Popular Streamers: R6ESPORTSBR / BEAULO / PENGU / KINGGEORGE / R6ESPORTSBR2
Tom Clancy's Rainbow Six Siege is an online tactical shooter video game developed by Ubisoft Montreal and published by Ubisoft. The game puts heavy emphasis on environmental destruction and cooperation between players. Each player assumes control of an attacker or a defender in different gameplay m
odes, such as rescuing a hostage, defusing a bomb, and taking control of an objective within a room.
---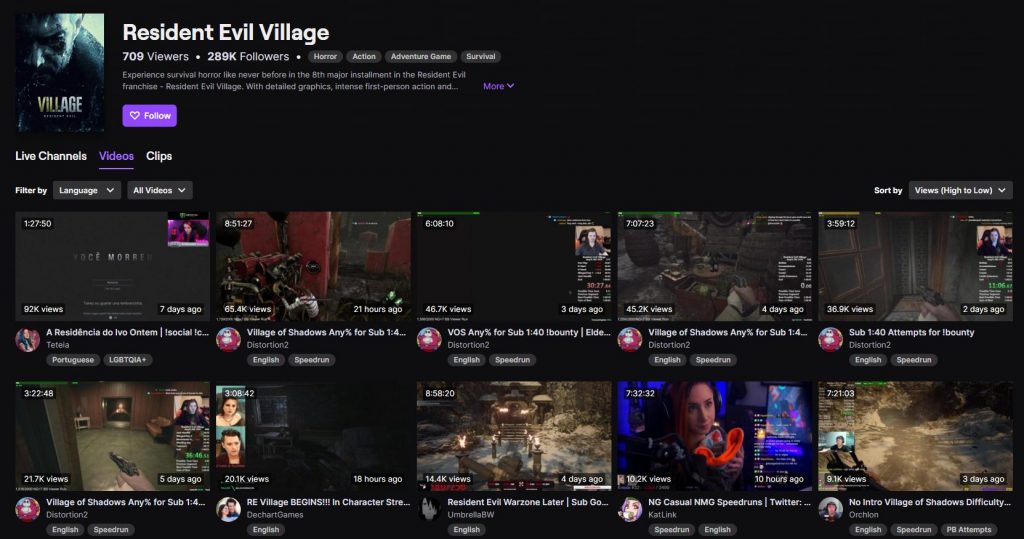 Source: twitch.tv
Average Viewers: 25,066
Average Channels: 826
Total Streamers: 13,741
Highest Viewers: 645,734
Most Channels: 15,162
Most Popular Streamers: DISTORTION2 / BAWKBASOUP / QTTSIX / CARCINOGENSDA / MAXYLOBES
Resident Evil Village is a first-person survival horror game developed and published by Capcom. It is a sequel to Resident Evil 7: Biohazard. The game now features a recently released online multiplayer mode.
View more information: https://influencermarketinghub.com/most-viewed-games-twitch/
ncG1vNJzZmikmaivpXnNnqtnm5%2BifK670q1kr6GVrLKlecaapJ6rXaS7bsDWoqucoF2eu25%2Bj2toaA%3D%3D