Top 13 Social Media Agencies You Should Try Out in 2021
Social media is everywhere. There are more than 3.4 billion active social media users worldwide as of 2019. The average time spent on social media per day is 142 minutes. This means your ideal customers spend 142 minutes per day on their preferred social networking platform.
Businesses spend lavishly on social media marketing to stay ahead of their competitors and to be where their ideal customers are. Over 91% of retailers use at least 2 social media networks for marketing.
It's hard to do business without social media today. If you're not using social media to connect and engage with your target audience, you're not even in the game.
A social media agency can help you take your social media marketing to the next level. If you're struggling to make sense of social media marketing or don't have in-house resources or expertise to manage it, you need to seek help from a professional social media agency.Below are some of the leading social media agencies you can work with in 2021.
---
Top 13 Social Media Agencies for 2021:

---
1. Sociallyin
Sociallyin is headquartered in Birmingham, AL. It offers social media marketing and advertising services to small and mid-sized businesses across multiple industries. It offers four main types of social media services:
Creative and production services

Social media strategy development

Social advertising

Community management on social networks
The best thing about Sociallyin is its focus on innovative strategies and techniques to engage with your audience on leading social networks. They have the resources and tools to create content (including photos and videos) from scratch for your brand. You'll get original quality content from these guys which is a huge plus.
If you have a minimum monthly budget of between $2.5K and $5K, you'll love working with these guys. The price is a bit high but if you manage to work with them, you'll love the way how they utilize your monthly budget.
---
2. Sculpt

top social media agencies
Sculpt is a social media agency that helps B2B companies and leaders to acquire customers through social media. It has a small team of experts and it serves all types of industries. It offers multiple social media marketing services including:
Brand awareness

Lead generation

Audience growth

Social media consultation
The price for social media management starts at $3K per month. This is the absolute minimum to start with. Yes, a bit pricy but their social media strategy is focused on lead generation and customer acquisition. They offer a startup-friendly package if you don't have enough budget.
If you're in the B2B sector, you should work with a social media agency that has experience and skills in B2B specifically. This will make your job easier and you won't spend heaps of money on testing and tweaking.
---
3. Social Hire

Social Hire is one of the leading social media agencies that focus on cost-effective social media marketing for small businesses, recruiters, and mortgage brokers. They offer four social media services:
Social media marketing

Social media strategy

Social media training

Lead generation from social media
It is one of the few social media agencies that has provided pricing details on its website – which is a much-appreciated approach. You don't have to get over the phone or ask for a quote. You can see pricing details, what you'll get with each plan, and the major differences.
Social Hire offers three monthly packages:
Pro plan is priced at $799/month and is suitable for a professional presence of social media

The Ultimate plan is priced at $999/month and works best for growing social media audience

Ultimate+ costs $1399/month and is best for generating leads from social media while maintaining a professional presence.
You know what you'll receive when you hire Social Hire and it is something that keeps communication crystal clear. No hiccups.
---
4. Audiencly
Audiencly offers a mix of influencer marketing, social media marketing, and paid media. Founded in 2018, Audiencly started out creating ad campaigns in the gaming sector. Over time, the agency quickly established itself in lifestyle marketing and now creates ad campaigns for brands from various segments. They are German based, with offices in Düsseldorf and Hamburg, and now also have a London office.
They offer the following services:
Content Creation

Influencer Marketing

Social Media Marketing

Social Ads

Paid Ads
Audiencly helps brands and influencers build and maintain a solid presence in social media. They undertake in-depth social media analysis and provide advice from their social media experts. They also offer channel management and content creation services.
A part of their social media marketing process, Audiencly supports you in identifying the most profitable social media platforms to advertise your product, from Instagram, YouTube, TikTok, Twitter, and Facebook.
---
5. IGW

Infographic World (IGW) is an infographic agency that's geared towards creating visual content for social media marketing. It serves mid-sized and enterprise sectors in a wide range of industries. Social media is all about visual content and th
is is what you get with IGW.
They offer you social media advertising services by creating and managing your campaigns. The visuals are developed and promoted for lead generation, brand awareness, sales, and to achieve other marketing objectives. Everything is managed by IGW.
It also offers social listening service that helps you better understand buyer personas, figure out what your ideal customers are saying about your brand, and it helps you analyze content and user sentiments. IGW has a 4-step process for social listening that is sure to increase ROI of your paid social media campaigns. You can get your business's health analyzed free of cost.
---
6. Bad Rhino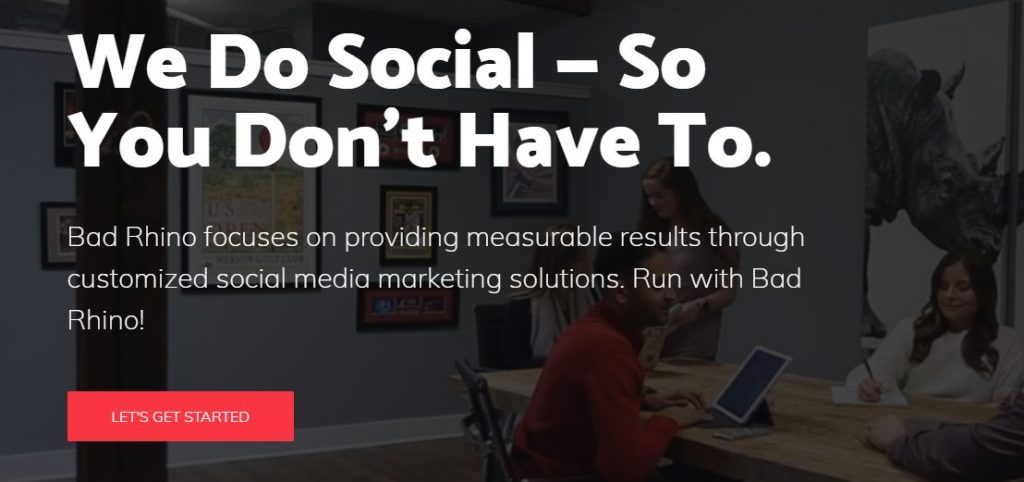 Bad Rhino is one of the leading social media agencies that received a lot of awards including Clutch Top Social Media Agency 2019. It has less than 10 employees and offers social media services to small businesses.
It offers the following social media services to its clients:
Social media management

Social advertising

Social media content creation

Consulting and training

Community growth

Promotions and contests
Bad Rhino treats your business as a separate entity. They will create a customized social media strategy for your brand based on your business strategy, objectives, budget, products, target audience, and other variables.
They have a small team but they work closely with their clients and offer them a wide range of services such as copywriting and advanced analytics. Bad Rhino offers custom pricing based on your budget, social media marketing objectives, and the type of service you want from them.
---
7. Social Media 55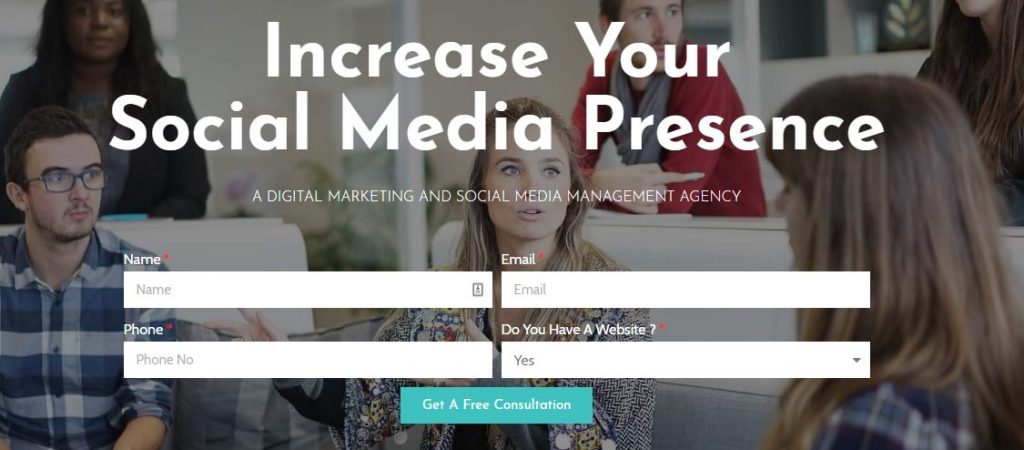 Social Media 55 is a small award-winning digital marketing and social media agency from Montreal Canada. It offers a wide range of social media services to small businesses including real estate, plumbing, health, hotel, etc. The major social media services offered are:
Social media management

Social advertising

Influencer marketing

Instagram, Snapchat, Facebook, and LinkedIn marketing
Social Media 55 offers you with specific social media services which let you save cost. For instance, if you're only interested in Snapchat marketing, you can opt for their Snapchat marketing service. They will help you with Snapchat only. It's a great service that makes it easier for brands to test the waters.
The primary audience of Social Media 55 includes small businesses so it is fairly affordable and flexible in terms of pricing. Even if you are on a tight budget, you'll get something of interest from Social Media 55.
---
8. Firebelly Marketing
Firebelly Marketing is an award-winning social media agency that won the Sprout Social's Cultivate Award. It comprises of 6 team members who are specialized in what they do. They serve all types of small and mid-sized businesses and offer three types of social media services:
Social media audit ($1500+)

Social media management ($1500/month)

Social media advertising (depends on ad budget)
It isn't very expensive but prices are comparatively higher because they have an exceptional track record and heaps of case studies. They know what they're doing so you can't refuse to pay them for the success they achieve.
It's a highly specialized and focused social media agency that offers limited services that it has mastered over the years. If you're interested in results and are more interested in the ROI of your social media marketing campaigns, Firebelly Marketing is the right agency for you.
---
9. Social Vantage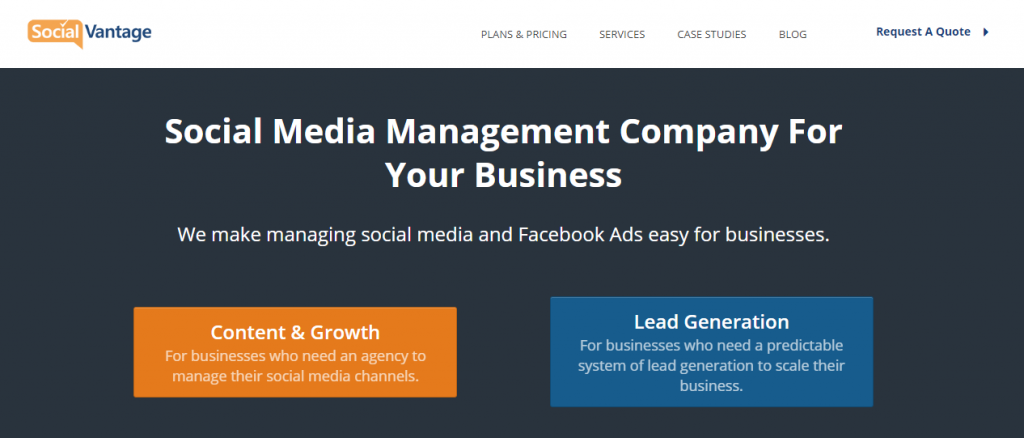 Social Vantage is an affordable agency that offers social media management services to small businesses. The agency is run by a team of 10 experts from different fields who joined hands together to help businesses grow. It offers a wide range of marketing and advertising services including three several social media services:
Social media management

Social advertising

Social media consultation
Social Vantage has three different pricing plans for social media management. The starting price is $397 per month which is very reasonable. This makes it a perfect social media agency for small businesses and startups that are on a shoestring budget. Sparing $397 a month isn't really a big deal.
---
10. Social Fulcrum

Social Fulcrum is a highly specialized social media agency that offers two core services: Facebook and Instagram advertising. Nothing fancy, this agency knows what it has to do. They target retail and ecommerce sectors only.
The best thing about Social Fulcrum is its specificity. They have a clear 5-step process that they follow to create, run, test, and tweak your campaign on Facebook or Instagram. They run campaigns for a good enough time and ensure that your campaign turns out to be successful at the end of the day.
If you own a small business and interested in running an advertising campaign on Facebook or Instagram, Social Fulcrum is the social media agency you should be with.
---
11. The Influencer Marketing Factory

The Influencer Marketing Factory is a Miami-based influencer marketing agency that specializes in
influencer marketing specifically. It serves small to mid-sized businesses across multiple industries. It covers multiple social networks including:
Instagram

YouTube

Twitch

TikTok
Besides offering influencer marketing services, it also offers training and workshops on influencer marketing (setup, content, and execution). If you want to train your employees on how to do influencer marketing, you can arrange an online workshop with these guys and everything will be all good.
They have maintained a database of influencers so it gets easier for them to find the right influencer for your campaign. This is one of the biggest benefits of working with The Influencer Marketing Factory.
---
12. Your Marketing Lady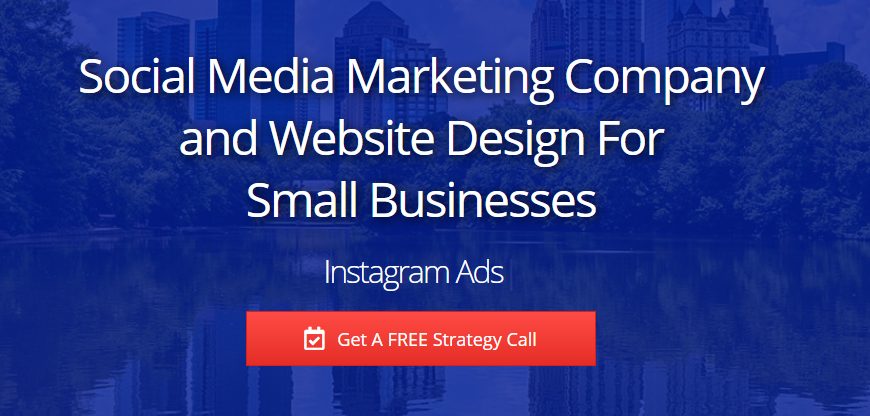 Your Marketing Lady is a social media agency from Marietta GA that helps small and mid-sized businesses generate leads and acquire customers from social media. It offers social media marketing, web design, and online review management services.
The best thing about their social media marketing service is that you can get a free strategy call from Tonya Burge. You can discuss whatever you want in the free consultation call. You'll be guided as to what's the right service for your business based on your budget, objectives, and challenges.
You can hire Your Marketing Lady for social media account creation and setup, social media content management, audience engagement, or any other project. There is no contract for social media services which means you work on the basis of task or objective.
If you're a startup founder or have a small business and you need highly personalized social media services from an expert, this is the agency you should get in touch with.
---
13. Imagine Media Consulting

Imagine Media Consulting is a leading social media agency that serves small businesses and startups. With over 25 full-time employees, this agency deals with all types of businesses irrespective of their industry. It offers multiple services including:
Social media marketing

Consultation and training

Advanced analytics

Video campaigns for social media

Content development for social media
The focus on their social media marketing service is on brand awareness and follower engagement. They develop a customized strategy for clients which makes it easier to clearly understand what you'll get from these guys.
If you want to train your employees, Imagine Media offers training and workshops as well. You can hire them to train your social media team.
It is a perfect agency for small businesses with a limited budget. You can get started with as low as $1000.
---
Conclusion
Hiring the right social media agency is essential for your business growth. If, for instance, you run an ecommerce store and need to promote your products on social media, you'll have to hire an agency that has the resources to create (or edit) product images (or videos).
Start by assessing your needs and social media marketing objectives. Ask yourself: What exactly you want to achieve from social media marketing?
And then choose a social media agency that will help you achieve these objectives. If you'll work with any agency, it will take you nowhere.
Think. Decide. Act.
ncG1vNJzZmikmaivpXnNnqtnm5%2BifLW7z2ZobGWjpLCqrctmpJ6cmZZ6orPEp5qinaNixrDBjKyfqK2cmXq1vthmpq6sXZ67bn6Pa2ho