Top 17 Vegan Influencers Making a Big Impact on Social Media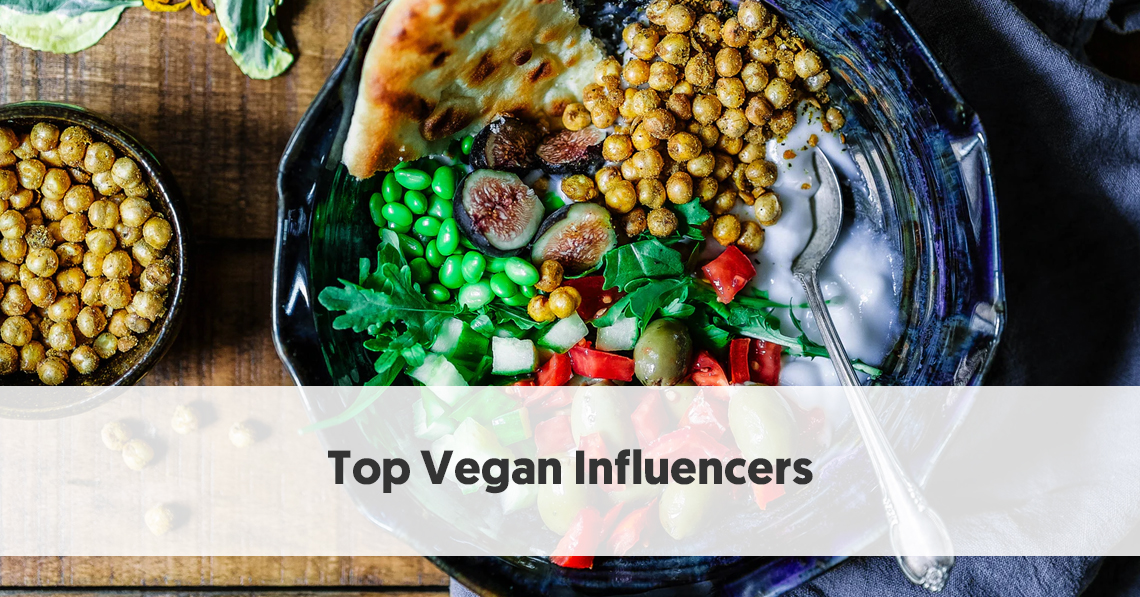 Veganism is no longer a trendy term on social media – it's now a popular lifestyle choice, here to stay. Terms like "vegan," "veganism," and "vegan influencers" are part of the norm now, and have a big impact on social media trends.
So what exactly is veganism? Being a vegan means eliminating all animal products from your diet. That means meat, of course, but also animal by-products like dairy, eggs, and smaller, less obvious products like gelatin. Some vegans will take it even further, too, and make sure that none of their clothing or accessories contains animal products like leather or fur. Beauty products, too, must be cruelty-free and animal-free.
It's not just social media, either. The number of people adopting veganism has grown immensely. According to The Vegan Society, the number of vegans in Great Britain alone quadrupled between 2014 and 2019. That same organization predicted that vegans and vegetarians will comprise a quarter of the population in the UK.
Several high-profile celebrities have switched to veganism and plant-based diets, from Zac Efron to Ellen DeGeneres. Plant-based diets have a number of benefits, like leading a healthier life and promoting sustainability. Social media bloggers and influencers are leading that trend, popularizing the diet online.
Whether you're looking for a vegan influencer to promote your product or looking to be inspired by the vegan lifestyle, here's a list of the top vegan influencers on social media to help inspire you.
---
Top 17 Vegan Influencers Making a Big Impact on Social Media:
---
The Top 17 Vegan Influencers on Social Media Right Now
1. @FearneCotton
Fearne Cotton is a well-known television broadcaster and presenter that hosts some of the U.K's most popular TV and radio shows. Fearne is also one of the best-known vegans in the country too, with millions of followers on social media.
The mother of two will also head to social media to share some of her favorite vegan recipes with her followers. The celebrity has released two cookbooks, the second of which came out in 2019. The 2019 release of "Happy Vegan" offers insightful and healthy recipes for newbie vegans, full-fledged vegans, and those simply looking to reduce their meat intake.
---
2. @NiomiSmart
Niomi Smart was one of the first major influencers to go viral on Instagram and grow her following, and since then, she's become a popular vegan influencer and a leading member of the vegan community online. Niomi follows a vegan diet, of course, as well as a vegan lifestyle, which involves cruelty-free make-up and sustainable clothing.
Niomi has more than a million followers and advocates for sustainability and ethical veganism. The influencer will often share recipes for what she eats in a day, favorite vegan eateries (both at home and abroad), and lifestyle content.
---
3. @familyfizz
The Family Fizz have become popular on social media for documenting their everyday life and their transition to veganism. The family, which has lived around the world, blends entertainment with education as they share their passion for veganism online. The family has been vegan for nearly a decade now, and their followers across their internet channels have followed their journey along the way. They have shared their favorite recipes, favorite swaps for recipes, and their favorite meals.
---
4. @lucywatson
This television star and model has more than a million followers as she documents her life on social media, as well as some of her vegan lifestyle. The reality star shares some of her most beloved meat-free vegan meals across her channels.
Lucy also has her own book titled "Awakening," a guide to living a healthy and sustainable vegan lifestyle. She also has her own range of vegan meals, titled Feed Me Vegan. Lucy also co-founded her very own plant-based restaurant in London with her sister titled "Tell Your Friends."
---
5. @iamtabithabrown
Tabitha is an American social media personality and actress who first rose to immense popularity in 2020 for her online video content. Tabitha became well known in 2020 thanks to her funny videos that often incorporated veganism and motivational speaking. She has millions of followers across TikTok and Instagram. Huffington Post described her as "America's Mom."
---
6. @elavegan
Michaela Veis is a vegan blogger and social media personality that's passionate about sharing vegan recipes with her followers. Michaela became a vegetarian at the young age of 6 years old and became a vegan in 2011. Since then, she's been sharing her creative vegan recipes online. She hopes to inspire people across the world to try veganism with easy and simple recipes.
---
7. @vegan
Michelle Cehn is a vegan mother and founder of World of Vegan. She first went vegetarian for more than 20 years at just eight years old and has since become a vegan. Michelle runs World of Vegan to inspire a positive change through creative activism and share vegan recipes. Michelle is a powerful voice in the vegan community and has worked with a number of organizations, including Farm Sanctuary, Mercy for Animals, Vegan Outreach, PETA, and PCRM. In addition, Michelle runs the Plant-Powered People Podcast and has her own cookbook, the Friendly Vegan Cookbook.
---
8. @fullyrawkristina
Kristina Carrillo-Bucaram is an Ecudorian-Lebanese social media influencer who follows a vegan diet and fully raw diet all at the same time. Her diet incorporates fruits, vegetables, nuts, and seeds. Each week, she posts new recipe videos that includes different recipes, different tips, various tricks, and vlogs. In addition, she shares motivational videos, fitness videos, vlogs, exercise videos, and more.
---
9. @ohsheglows
Angela Lindon is a New York Times bestselling author known for her cookbook, "Oh She Glows for Dinner: Nourishing Plant-Based Meals To Keep You Glowing." The cookbook has more than 100 recipes for dinner and lunch meals, all vegan friendly. As a mother and businesswomen, Angela creates vegan recipes for busy people who need quick solutions to dinner. Her recipes include time-saving hacks and complete recipe timing.
---
10. @nimai_delgado
Nimai Delgado is a vegan fitness influencer and bodybuilder who has never eaten meat. He's the founder of Vedge Nutrition as well as Vegan Fitness Com and Vegan BodyBuilding Food. He has hundreds of thousands of followers following his journey and his vegan lifestyle.
---
11. @ellenfisher
Ellen Fisher has been following a vegan lifestyle for more than 14 years now. The vegan influencer, known for her Instagram account with more than half a million followers, is a mother and wife raising her boys at home and homeschooling them.
The vegan influencer shares her healthy lifestyle on social media, sharing tools, tricks, tips, and recipes for followers looking for a more meat-free life. She also has several ebooks self-published, including a book on plant-powered kids meals and epic vegan foods.
---
12. @avantgardevegan
Gaz Oakley, better known on social media as the Avant-Garde Vegan, is a vegan social media personality, chef, and cookbook author from the U.K. The Daily Telegraph called Gaz "a star of the meat-free world," and said his "recipes have gained the respect of herbivores and carnivores alike." Gaz first became vegan after he heard an interview with vegan musician Jme, and it inspired him to become vegan. Gaz used his skills as a chef to transform into a vegan chef and activist. He launched his Instagram in 2016 and later left his sales job full-time to focus on his vegan activism and vegan cooking. He has written several vegan cookbooks and has partnered with The Vurger Co. and Wagamama to create vegan foods.
---
13. @chocolatecoveredkatie
Katie, better known online by her blog Chocolate Covered Katie, is one of the most popular food bloggers in the U.S. best known for her healthy desserts and comfort food recipes. Katie, a vegan herself, primarily features vegan recipes on her blog. In addition, she has authored a cookbook.
Her blog has been ranked as one of the top 25 food blogs in the world and gets more than 8 million viewers each month. She has been featured in a number of news outlets, including The Today Show, USA Today, Time, CNN, The Food Network, Bon Appétit, Cooking Light, People Magazine, the msn, yahoo, and aol homepages, and the ABC 5 O'Clock News.
---
14. @recipesfromreyn
India Reynolds, best known for her Love Island appearances, is a rising star making her mark as a vegan influencer. India's second Instagram account, @recipesfromreyn, is completely dedicated to her delicious and healthy vegan recipes. She uses the account to show off her recipe creations and her meat-free meals. In addition, she will also document cruelty-free beauty products as part of her vegan lifestyle.
---
15. @earthlinged
Ed Winters is a vegan educator, public speaker, and content creator perhaps best known for his viral public speeches, video essays, and public debates. The vegan activist has spoken at a third of UK universities and several Ivy League colleges about veganism. He has also appeared as a harvard University guest lecturer in 2020 and 2021. The activist has given speeches about veganism across the world and in 2019, he gave two TEDx talks which garnered more than 1.5 million views online collectively. One speech in particular, titled "You Will Never Look at Your Life in the Same Way Again," has gotten a cumulative 35 million views online.
Ed is the co-founder and co-director of Surge, an animal rights organisation determined to create a world where compassion towards all non-human animals is the norm. In 2016, he also founded The Official Animal Rights March. He has been heavily involved in vegan activism. In 2020, he founded the Surge Sanctuary, a lifelong, no-kill, safe haven and forever home to abused and unwanted animals.
---
16. @rainbowplantlife
Nisha Vora is a vegan chef, YouTube star, and blogger best known as the voice behind Rainbow Plant Life. Nisha first became a vegan in 2016 after she watched several documentaries about factory farming over the course of several nights – and became a vegan immediately afterwards. Since then, Nisha has been teaching her followers how to make flavor-packed vegan recipes through her blog and social media channels. In 2019, she published her very first cookbook titled "The Vegan Instant Pot Cookbook: Wholesome Indulgent Plant-Based Recipes."
---
17. @Bosh!
Henry and Ian are the duo behind BOSH!, a food blog that focuses primarily on vegan food and healthy recipes, all while trying to promote sustainability. The pair have authored four bestselling books to top it. In addition, the pair are now behind the new TV show "Living Life On The Veg." Henry and Ian focus on creating simple and easy, yet nutritious
, meat-free meals. Their social media channels are some of the most popular vegan cooking communities online.
---
Conclusion
Vegan influencers are not just having a moment – they are here to stay, and their influence across social media is growing. Ten years ago, terms like like "vegan," "veganism," and "vegan influencers" may have been uncommon, but nowadays, these terms are part of a rising social media vocabulary.
ncG1vNJzZmikmaivpXnNnqtnm5%2BifLW7z2ZocGWmmrSiuoyipZ%2BkpZq7pLHRrGSmmZueu6h5wGaZop9dnrqxrcKtZKimXai8pLXApWSmnZSernA%3D