The Incredible Rise of TikTok
The story of TikTok is a tale of two halves. In the West, teenagers grew up with the music-focused social app, Musical.ly. In the East, teenagers enjoyed Douyin (branded TikTok for the western world). In 2018, the apps joined together. There has been a meteoric rise of TikTok in a relatively short period.
Since TikTok's merger with Musical.ly user numbers have soared. This is partly because of a smart marketing campaign by ByteDance (who own TikTok). They have advertised TikTok virtually everywhere that young people hang out – including opposition social sites, such as Snapchat and YouTube.
Yet, if you asked the average person about TikTok, most would claim never to have heard of it – certainly, if they are over 30 and not a parent. TikTok has one of the tightest demographics of any social network and remains virtually unknown to people outside that age range.
See just How Fast TikTok has Risen to Dominance
---
The Rise of TikTok:
---
A Brief History of Musical.ly
Like its new stablemate, Musical.ly originated from China. It was founded by Alex Zhu and Luyu Yang in Shanghai, China in 2014. The founders' first online venture had been an online learning platform with short (3-5-minute videos), but this did not attract enough interest to be viable. Luckily, Zhu and Yang still had available funds, so were able to rebuild, with a focus on the entertainment sector.
They chose to create a platform incorporating video and music in a social network. Zhu and Yang wanted to make it easy for people to shoot music videos which they could share with their friends.
They initially introduced Musical.ly to both China and the USA. However, the market that took most notice of Musical.ly was American teenagers, who enjoyed making videos of themselves lip-synching music. By July 2015, Musical.ly had built a substantial following, and surpassed, Facebook, YouTube, and Instagram in the iOS popularity list. Before long the site's users have even given themselves a nickname – "musers."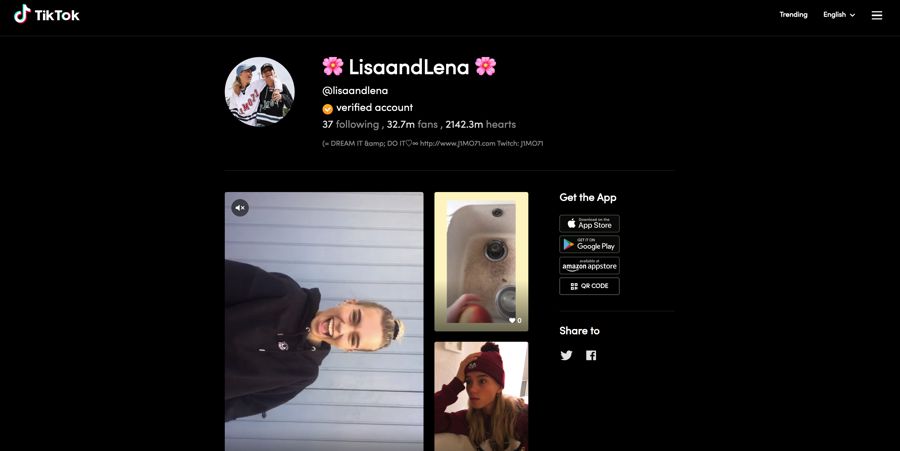 Source: tiktok.com
By May 2016 Musical.ly was able to claim 70 million downloads. It was becoming popular with a music-obsessed youth. And it wasn't just lip-synchers who were uploading videos of themselves. There were now quite a few talented musicians uploading videos of original songs. Musical.ly was also catering for non-musical acts, as well, with a large niche group of youngsters making short comedy videos. We wrote some of Musical.ly's top talent in our list of Top 20 Musical.ly Influencers.
July 2016 saw a significant innovation to Muscial.ly, with the introduction of Live.ly. This was their livestreaming platform, allowing talented youngsters to broadcast live performances.
One of the reasons for Musical.ly's success was that they were able to get the major music companies onside. They began by making a deal with Warner Music Group in 2016, licensing its music for use in Musical.ly streams. They made similar deals with other rights holders. This meant that teenagers could easily upload short clips of themselves lip-synching copyrighted material without any legal ramifications.
---
TikTok Before its Merger
The Chinese company, Bytedance, introduced its new app, Douyin in September 2016. The company developed the app over just 200 days, and had 100 million users within a year, viewing more than 1 billion videos per day.
Bytedance expanded the app internationally in September 2017 but rebranded it TikTok in the international market (keeping the Douyin name in China). By January 2018, TikTok was the #1 free mobile app in several countries, including Thailand.
---
TikTok Buys Musical.ly
Bytedance purchased Musical.ly on 9 November 2017 for an undisclosed sum, predicted to be close to $1 billion. TikTok saw it as a way to expand into the US teenage market, already dominated by Musical.ly.
They merged existing accounts from both programs but consolidated into a single app, which they gave the TikTok name to. The original Chinese version of TikTok, Douyin, was kept as a separate app, in its home country. Unsurprisingly, given China's size, Douyin is still huge. It has more than 300 million monthly active users.
TikTok continues the core business of Musical.ly, however. People still upload and share 15-second videos, soundtracked by music clips.
---
The New TikTok Has Less of a Musical Emphasis
People now upload a wider variety of videos to TikTok, than they did to Musical.ly, however. It features quite a few "cringe" videos, featuring people doing cringeworthy activities. Sure, that includes millions of videos of tone-deaf people attempting to sing but also features uncoordinated dancing, pranks went wrong, and other weird and wonderful acts. One video shows a woman standing in front of a bathroom mirror doing thumb movements to a Yo Gotti.
TikTok is not just music and cringe, however. Its members upload videos containing such diverse content as dancing, cooking, doing magic tricks, playing with pets, and re-enacting comedy skits.
---
The Expansion of TikTok and Douyin
The merge between TikTok and Musical.ly was not the end of the game. TikTok continues to expand. It was the most downloaded free app in the Apple App Store in the US in September 2018. It also ranked first on Google Play during October.
Counting both Apple App Store and Google Play download stats, TikTok ranked third in the world in November 2018. TikTok was downloaded more than 104 million times on Apple's App store during the full first half of 2018.
eMarketer analyzed the data and discovered that in terms of combined app store downloads between June and November 2018, TikTok ranked in the following positions:
June 2018 – #7 (US), #3 (worldwide)

July 2018 – #5 (US), #4 (worldwide)

August 2018 – #6 (US), #4 (worldwide)

September 2018 – #6 (US), #4 (worldwide)

October 2018 – #2 (US), #4 (worldwide)

November 2018 – #2 (US), #3 (worldwide)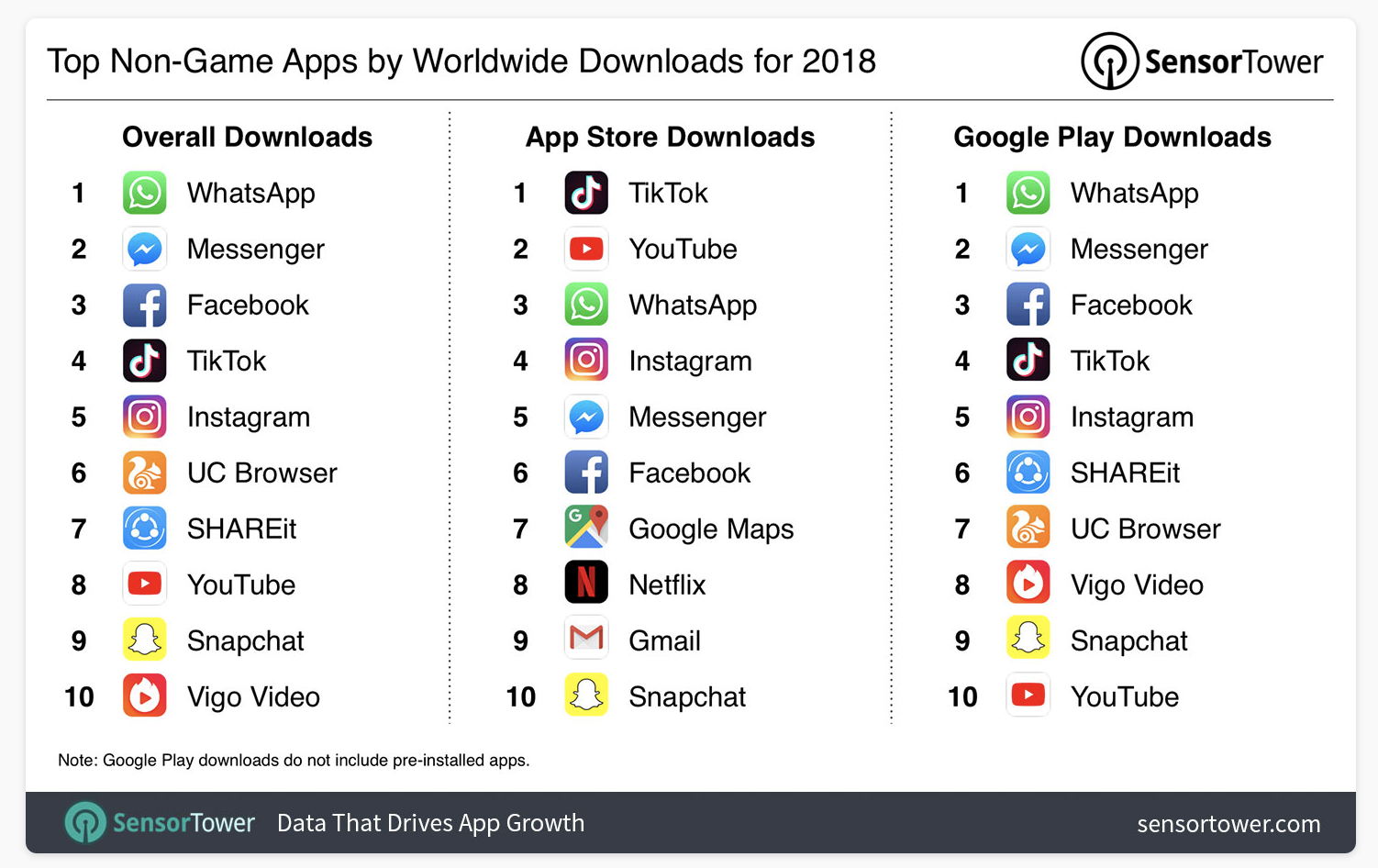 Source: sensortower.com
TikTok ended up being the 4th most downloaded app for all of 2018. It was in the #3 position in the most recent statistics (Q1 2019), topping the Apple non-game apps
chart, and coming third for iOS users behind WhatsApp and Messenger.
TikTok is now available in 154 markets in 75 languages. It was enjoyed by 500 million users globally in June 2018. It's been installed on devices 800 million times (excluding downloads of Douyin on Android devices in China).
Douyin's monthly user count stood at 300 million in June 2018. 150 million use the app daily. Short videos have taken China by a storm over the last 18 months, with Douyin being in an ideal position to take advantage of the trend. Douyin is used by about 10% of the entire Chinese population.
---
Celebrities Take an Interest in TikTok
With the rise of TikTok downloads, it became inevitable that celebrities and high-profile people would take an interest in the platform. As the Guardian reported, "The success of any burgeoning app is often tied to the early adoption of a key celebrity. The fortunes of Snapchat have been closely tied to the whims of Kylie Jenner, Instagram has Selena Gomez, and Twitter now has a certain Mr. Trump. For TikTok, late-night comedian Jimmy Fallon may be the user that pushes it over the edge in the United States."
Jimmy Fallon spoke about TikTok videos on a segment on NBC's The Tonight Show Starring Jimmy Fallon in November 2018. He suggested that people might like to use TikTok to upload videos of themselves lip-syncing along to standup comedy routines. He encouraged viewers to take part in a series of challenges, such as the #TumbleweedChallenge, where people stop what they're doing and roll around on the ground like a tumbleweed while an old western movie soundtrack plays.
Skateboarder, Tony Hawkes, is another who has taken to TikTok. He has a verified account with 121.8k fans and 126.6k hearts. While he has only shared a few videos to date, they have been hugely popular.
Even the Terminator now has a TikTok appearance., setting up his account in March. His early videos focus on fitness and health, and he has a customized hashtag, #likearnold.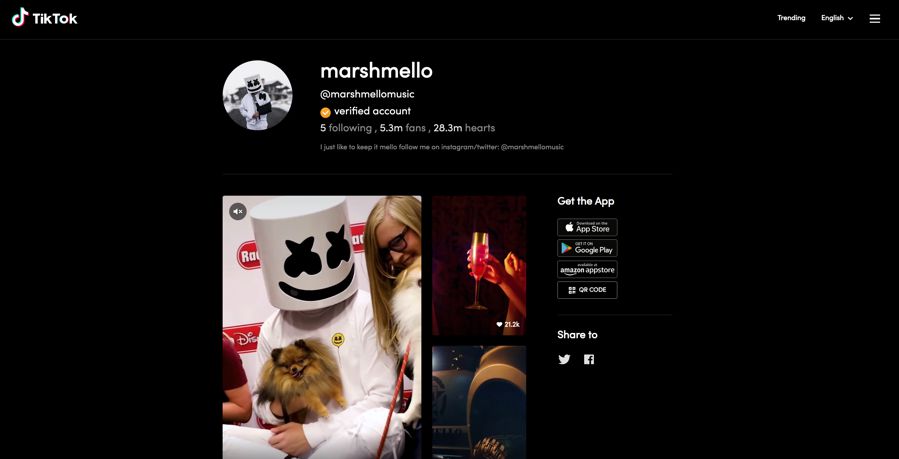 Source: tiktok.com
Other celebrities with TikTok accounts include:
---
LisaandLena Have Jumped to the Top of the TikTok Charts
When we wrote our list the Top 20 Musical.ly Influencers a year ago, Ariel Martin (@babyariel) held the number one spot with 22.9 million fans. She is still performing well, with 29.3 million fans on the revamped TikTok (these figures exclude people with videos on the Chinese Douyin version of the app). However, she has lost the coveted #1 spot.
As at April 2019, the five most popular accounts on the non-Chinese version of TikTok are:
LisaandLena (@lisaandlena) – 32.7m fans, 2142.3m hearts

Loren Gray (@lorengray) – 30.5m fans, 2021.8m hearts

Baby Ariel (@babyariel) – 29.3m fans, 1601.7m hearts

Kristen Hancher (@kristenhancher) – 22m fans, 1628.9m hearts

jacob sartorius (@jacobsartorius) – 20.4m fans, 1326.9m hearts
There can be no doubt that TikTok is continuing to rise in popularity. It is far more than just a lip-synching channel for teenagers now. While its demographic is still young, its fans seem to stay with the network as they age, gradually increasing the length of the fanbase. TikTok's purchase of Musicall.ly was a shrewd business decision that has helped the East meet the West.
ncG1vNJzZmikmaivpXnNnqtnm5%2BifLW0xGagp5uimrGqrsueZKuho5p6sLKMraCkrJ%2BgfA%3D%3D